Receptionists represents professionals who are the backbone of every company and organization.
Receptionist jobs are always dynamic. These professionals are the backbone of every company and organization. Receptionists are at the forefront of a company, which makes their job demanding and exciting. Sounds good? Then discover with us why it is becoming an unmatched position in global work.
Get One of the Best Receptionist Jobs in 2022
Nearly every industry needs receptionists. They can work in large corporations in the automotive sector or fitness centres just as much as they can in hotels or medical facilities. It is not surprising that you can expect that the employment of receptionists will grow by 4% by 2029.
Despite the impact of the pandemic, the job outlook growth of receptionists will be one of the highest. Unsurprisingly, the service sector is making a strong comeback with the global start-up. Therefore, we will explain to you which are the 5 best opportunities for receptionist jobs for 2022:
Executive Assistant

. You will be in charge of supporting the executives and senior managers of the organization. An impeccable presence is required. In addition, you will function as a gatekeeper to your superior, deciding which contacts will talk to them.

Hotel Receptionist

. They do all the work related to the daily organization. Greeting and saying goodbye to guests, organizing rooms, solving problems… The ability to manage tasks and work under pressure are indispensable skills.

Customer Service Representative

. This is the face of the company in front of the public. In these receptionist jobs, a customer service orientation is indispensable. You will be the person who functions as the link between the company and the public, so communication skills are a must.

General Office Clerks

. You can work in public or private offices. You will be in charge of making appointments, organizing data, giving general information to clients… You will usually have on-the-job training.

Information Clerks

. You will have different tasks, such as creating reports, resolving customer queries, organizing content… This is one of the routine receptionist jobs that does not require too many certifications.
Can You Earn a Lot? – Receptionist Jobs Salary
Of course, receptionist jobs are usually not very physically demanding but they do require a lot of mental activity. Keeping your tasks up to date and focused is key. Therefore, the salary will be commensurate with your responsibilities. However, you can get an idea of what the salary will be by checking the average salaries around the world:
The average salary of receptionists in the US is $13.46/hour, with the highest-paying cities being New York, Los Angeles, Chicago, and Phoenix. The median annual base salary of receptionists in 2020 was $27,965.
In Europe, the average yearly salary depends on the country and its standards. For instance, receptionists working in Germany will receive 32,176€/year, in Switzerland, it will be 52,681€/year, but in Romania, it will be no more than 3.15€/hour.
However, if you want to know perfectly what is the average salary in your area, we recommend you to go to our website. On Jobstoday.world you can search for receptionist jobs near you which will help you get an idea of how much you will earn in your area.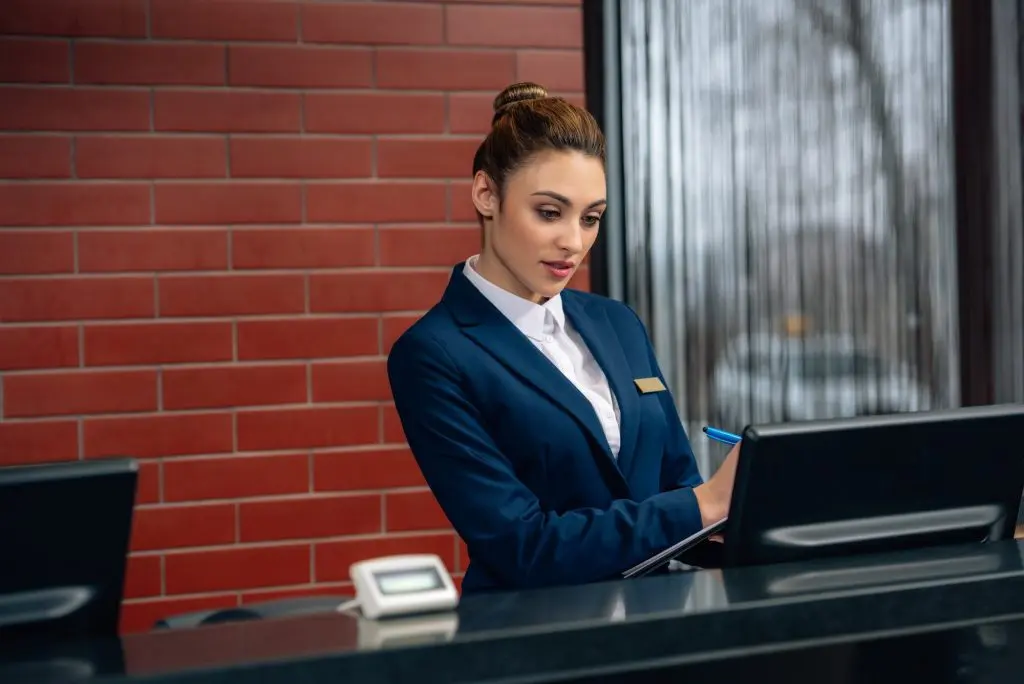 What if You Don't Have a Degree? – Entry Level Receptionist Jobs
As we have explained, receptionist jobs do not usually require extensive training. Therefore, there is a good chance that you will be trained on the job itself. Entry-level receptionist jobs are the order of the day because the turnover in the sector is very high.
Don't hesitate if you don't have certifications or experience. Demonstrate with your resume that you have the necessary skills and the rest will follow. Bear in mind that, despite how demanding a receptionist's job might be, it is also rewarding. It can be a perfect opportunity to broaden your horizons and expand your education.
Receptionist jobs allow you to create an extensive network, develop soft skills, and practice different languages. And yes, it is a career that doesn't require a high level of education, but it can provide you with a more than satisfactory salary.
Receptionist Jobs Responsibilities – What Will You Do?
As a receptionist, you will have an intense impact on the business, which is why it's essential how you greet and receive customers and clients. But the importance of your work will go beyond being pleasant. You should also have a vast knowledge of the company they work for, its goals, and its history.
If you choose to work as a receptionist, you will get to interact with every department and employee, including those at the top of the pyramid. Among your major responsibilities will be:
Answer phones

. Missing a call is a big mistake. Taking note of every call to the organization is key and you will need to pass the information on to the right person. In receptionist jobs,

you will be the liaison between many people

, who depend on you to get the job done in the best possible way.

Schedule and confirm appointments

. Book meeting rooms, remind participants, organize catering… It's not as easy as writing it down in Google Calendar.

You have to keep up to date with everything that is going to happen

, be organized and avoid that nothing escapes your control.

Receive visitors

. Of course, in receptionist jobs, visitors to the organization depend on you. Whether they are seeking information or a complaint,

you must approach the situation politely.

Keeping a visitor log may be necessary.

Financial work

. You will be responsible for payments, both cash and card. You will need to be confident in

solving any problems that may arise

. And, of course, it is essential to know the different methods of payment.

Secretarial work

. Photocopying, faxing and organizing documents will be among your tasks. You must have everything in order and well located

so that you don't hesitate when you are asked for something

. It is very possible that in many receptionist jobs you will also have to take care of the digitalization of documents.
If you are convinced by the idea of applying for receptionist jobs, Jobstoday.world is your best ally. You can work anywhere in the world at the click of a button. The perfect job opportunity is waiting for you – take advantage of it now! Let's work together.
See more:
Being a receptionist means you will work in-office. Did you consider other

office jobs

?

Before you go for a receptionist position, you may want to consider what working from home would be like. These 5

Amazon remote jobs

can be your next opportunity.

If you're interested in the Seattle company, don't miss our blog post on

how to get a job at Amazon

.